Charity Corner
2017
What is the Charity Corner?
The
Charity Corner
is where you can donate Neopoint or NC items.
Granny Hopbobbin is trying to get as much help as she can to create a Community Hall for Neopians in need.
The Charity Corner

Granny Hopbobbin has decided that she needs a nice, warm shelter to help Neopians in need, all-year-round. Not wanting to be left behind in helping out, TNT has teamed up to help Granny build a Community Hall for all of us! But we need a few resources to get started. Would you be willing to lend us a hand with this? We also overheard Granny saying something about giving users a little something in return for their help.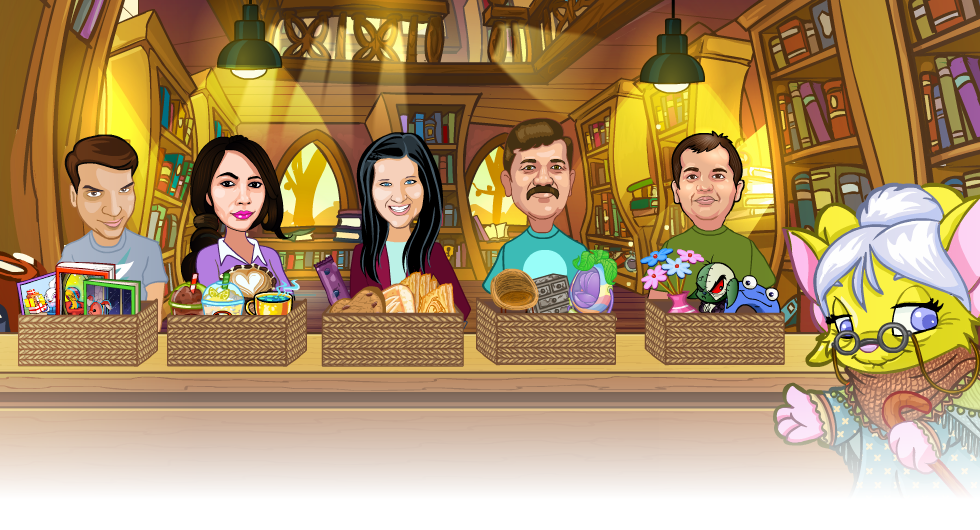 You have donated 40 times. How generous!

Donate Neopoint Items
You can donate Neopoint Items based on categories: Books, Coffee and Beverages, Food, Furniture and Gardening, and Gifts. To donate items, you have to have five items the same or increasing in rarity. For instance, if in the first slot you have an item rarity of r65, your next item must be the same or more but within 5 rarity, the next the same or moreso than that. Once you select the first items, the page filters out the next items you can offer.
Once you click Donate Neopoint Items, you are then lead to a screen where you can fill in items to donate.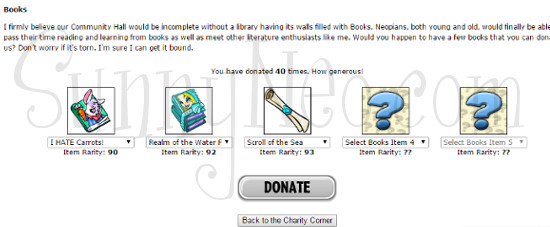 Once you have five items entered in, you can then click on the yellowed Donate button. This will trigger your reward.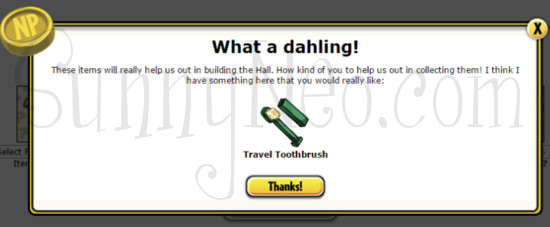 Prizes
If you donate, here is a selection of prizes you can get. The prize you can get is based off the rarity of the first item you donate. Donations between r90-99 will give a r90-99 prize, but a donation of r89-r95 will give an r80 - r89 prize.
Prizes Based On Rarity
Quick Jump
r90-r99 | r80-r89 | r70-79 | r50-r69
Cross-Rarity Prizes
Items that are awarded in multiple rarity categories we have lists for.

Specific Pet Wearables

wearables only one species can wear
(click species then click item to view its rarity)

Collectable Cards

rarity listed for each card

Stamps

click the album you'd like to view, and click the ? next to the stamp you'd like to see information on where rarity is listed
Rarity 90-99

Random Morphing Potion

Random Gourmet Food

excluding those with rarities 100
to view the rarity click on the item

Unpainted Petpets

Select Unpainted for color to view

Petpetpets

excluding unreleased

A Plague Upon You


Artist Studio Background

(Click to Preview)


Blumaroo Statue

Blushing Bride Quiguki Doll

Boots of Leaping

Bullseye Snowball

Candy Shop Usuki Set

Chocolate Chia Cookbook

Curved Wocky Sabre

Darigan Aisha Action Figure

Disco Petpet Bath Tub

Faerie Korbat Plushie


Fance Top

(Click to Preview)


Fire Tuskaninny Plushie

Gelert Blade of Frozen Wrath

Golden Korbat Charm

Golden Qasalan Chestpiece

Golden Wocky Wand

Grey Blumaroo Plushie

Gruslen Bean Bag

Halloween Tonu Plushie

How To Escape

Koi Amulet

Lemoran Notepads

Lightning Lizard Plushie

Magical Green Cybunny Plushie

Nimmo Elixir of Healing

Orange Kougra Print Rug

Pirate Slingshot

Purple Coral Table


Research Desk Foreground

(Click to Preview)


Scorchio Helmet

Shenkuu Perfume

Silver Draik Bow

Smelly Cheese Table

Snot Bomb

Space Scrap Shield

Stone Snowflake

Usuki Party Set

Vanity Doll

Wind Up Scorchio

Zafara Bomb

Zombom Pillow
Rarity 80-89

Alpine Adventurer Usuki

Apple Cinnamon Crepe

Autumn Garden Lounger

Autumn Pond

Baby Quiggle Plushie

Baked Carrot Biscuit

Bamboo Vase

Berry Ink

Blarthrox Ball

Blueberry and Chokato Achyfi

Bronze Scorchstone

Bronze Shield


Brown Velvet Bow Hat

(Click to Preview)


Carnival of Terror Play Set

Carpentry

Cheeky Cybunny Gnome

Cheery Holiday Bruce Goodie Bag

Cherub Xweetok Plushie

Chocolate Kiko Bandage

Chocolate Werelupe Cookie

Christmas Ona Eraser

Cobrall Pencil Sharpener

Colourful Xylophone

Cybunny Mutations

Darigan Zafara Plushie

Deluxe Toffee Apple

Diamond Snowball

Dicearoo Replica Trophy

Dried Prampet Leaves

Disco Pteri Plushie

Down the Symol Hole

Dual Kyrii Comb

Durian Pie

Earth Faerie Oven

Electric Sofa

Elegant Elephante

Faerieland Travel Brochure

Fire Saxophone

Flaming Hot Custard

Flaming Rock of Fire

Flashy Winged Collectable Scarab

Flower Circlet

Fried Salmon

Fyoras Favourite Foods

Gelert Puppet

Ghost Hissi Plushie

Ghoti Plushie

Glowing Fire Axe


Gobbler Costume

(Click to Preview)


Gold Handled Katana

Gold Valentines Ring

Gormball Jersey

Gormball Mask

Grarrl Paper Pad

Green Marbleman T-shirt

Green Peophin Plushie

Green Slorg Plushie

Green Techo Gnome Plushie

Happy Happy Peanuts

Holly Print Bean Bag


Hot Dog Mascot with Mustard

(Click to Preview)


Hot Strawberry Soup

How to Care for Asparagus Chias

How to Look Scholarly

Industrial Steel Violin


Inside a Jack-o-Lantern Background

(Click to Preview)


Jelly Cookies

Kau Battle Tactics

Kiko Bath Sponge

Kiko Lake Snowglobe

Koi Sticky New Year Cake

Lab Ray Mad Scientist Plushie

Lavender-Scented Lotion

Leaf-Raking Usuki

Lenny Coffee Mug

Licorice Nimmo Cake

Lord Darigan-o-Lantern

Lutango Layer Cake

Lutari Pancakes

Magical Battle Paste

Magma Slushie


Malevolent Tombstones

(Click to Preview)


Manes

Mano Root

Milk Chocolate Hollow Cybunny

Mint Skeith Iced Bun

Moehog Colouring Book

Mummified Ruki History


Mystery Island Training School Background

(Click to Preview)


Negg Slushie

Neovian Fashion History


Neovian Serving Trolley

(Click to Preview)


Nuranna with Laserbeams

Orange Ball Lamp

Orange Blumaroo Gummy Die

Orange Spyder Candle

Organic Dill Pickles

Pale Elixir

Pink Yurble Plushie

Pirate Pteri Mini Treasure Chest

Pizza Pencil Case

Plushie Table

Poogle Races

Potion Table

Power Negg Window

Programming For Grundos


Protective Lime Helmet

(Click to Preview)


Purple Columbine

Quintilc Throwing Star

Rainbow Fridge

Rainbow Grarrl Plushie

Rainbow Shoyru Plushie

Ranch Dressing Smoothie

Red Good Luck Packet

Red Kacheek Toaster

Rock Guitar

Rototoms

Scarab Negg

Scarabug Ball

Seaweed Rug

Scorch E O

Shenkuu Flag


Shiny Obsidian Foreground

(Click to Preview)


Silver Triangle

Skunk Lipstick

Slorg Planter

Snicklebeast Poster

Snorkle Paddling Pool

Speckled Acara Plushie

Speckled Jetsam Plushie

Speckled Kacheek Plushie

Speckled Mynci Plushie

Spherical Lemon

Sproing Plushie

Spyder Armchair

Stacked Pots Mug

Starry Gnorbu Plushie

Steel Pedal Guitar

Stone Display Pillar

Stone Tuba

Stone Yoyo

Straining Aisha Fishing Gnome

Superstar Hair Clip

Tangor Plushie

Techo Pencil

The Lost Naalala

The Meridellian Pteri

The Rainbow Fountain

The Thief Handbook

Tonu Horn on a Stick

Torch-Juggler Usuki

Usuki Singing Star #1

Too Hot

Toy Seesaw

Tusk Care For Moehogs

Usuki Music Set

Valentines Grundo Plushie

Wheelie Plushie

Wind Up Lisha Toy

Winter Fun Cybunny Gnome

Wisdom of the Elders

Wocky Hide and Seek Book

Wooden Skateboard

Xandra Plushie

Ya Tchea Fruit Bomb

Yellow Grundo Balloon

Yellow Tuskaninny Keyring

Zafara Keep Fit

Zargrold Plushie

Zurroball Paddleball
Rarity 70-79

3 Bags Of Babaa

Babaa Pencil Sharpener

Babaacus

Baby Bruce Blocks

Brass Lantern


Brown Toadstool

(Click to Preview)


Bruce Blues

Candy-Filled Balloon

Carrot Stuffed Jacket Potato

Dancing Wockys


Deep Blue Glazier Wings

(Click to Preview)


Defenders of Neopia Heroes Colouring Book

Disco Sink

Energyblast Krawkade

Faerie Guide to Interior Design

Faerie Music Book

Gluten Free Snack Basket

Green Apple Gelert Gelato

Green Backpack

Green Korbat Plushie

Helm of Darkness

Holiday Colouring Book

Icy Table

Immense Rubber Axe of Doom

Journey Through the Ice: A Tuskaninnys Tale

Kau Congrats Card

Lennies in Love

Lenny Crosswords

Lisha Of Meridell

Meerca Friends

Nimmo Lily Stones

Neopian Times Issue 14

On the Wings of a Purple Eyrie

Ona Balloon

Orange Cream Tea

Painted Chair

Papaya with Seaweed

Pear Lute

Pink Hibiscus

Poison Snowball

Purple Elephante Plushie

Robotic Christmas Quiggle Toy

Sloth Cap

Smoothie Operator


Snow Laden Foreground

(Click to Preview)


Spring Mirror

Squeaky Larnikin Toy

Tangerine Slushie

Techo Style

The Magic Apple Tree

The Natural Decorator

The Tie Tie-in

Tooled Leather Boots

Travel Toothbrush

Trick-or-Treat Adventure Set

Tug Of War Stamp

Wooden Pull Along Cart

Wooden Stairs

Xweetok Heads Up

Zestless Zombie Gift Basket
69 And Below

Acaras in History

Air Faerie Pen

Altador Puzzle

Black Cherry Slushie

Black Nail Varnish

Blue Bike

Blue Flotsam Plushie

Blue Kyrii Plushie

Bori Digging Action Figure

Bottle of Green Sand

Bubble Sousaphone

Card of Apology

Chokato Lip Gloss

Classic Dining Table

Cloudy Wocky Days

Copper Planter

Digging for Knowledge

Disco Nail Clippers

Draik Claw Back Scratcher

Dung Heart

Econo-Pad

Elusive Shenkuu Guide

Fashion with Denim

Funky Lime Table

Galactic Adventures

Ghost Moehog Flying Disc

Golden Glitter Glue

Grape Grarrl Gummy

Green Toothbrush

Hewn Stone Table

Hula Aisha

Icy Heart Candy

Icy Tissues

Kauvara Plushie

Lost Desert Wrist Plate

Kreludan Bed Time Stories

Mega Sweet Lemon Smoothie

Meridell Tartan Yo-Yo

Mutant Fountain Pen

Mynci Coconut

Neocola Balloon

Nose Picking Mynci Gnome Balloon

Old Box Fort

Ogrin Sock Puppet

Palm Frond Sculpture


Pick Your Own Foreground

(Click to Preview)


Pine Melted Candle

(Click to Preview)


Pineapple Table

Pink Lipstick

Pink Toothbrush

Polka Dot Guitar

Pretty Peophins

Pteri Battle Manual

Quiggle Toothbrush

Red Bouncy Ball

Rock Bin

Rock Chair

Sad Peophin Stories

Sakhmet Tales

Shenkuu Firecrackers

Simple Green Chair

Simple Purple Chair

Simple Red Side Table

Simple Yellow Table

Skeith Marbles

Small Neggnog Smoothie

Small Roasted Chestnut Smoothie

Small Stone Table

Strawberry Blend Slushie

Strawberry Lip Gloss

Squeezy Toothbrush

Table Lamp

Tan Blush

The Complete Nail-Care Guide

Uni Harp

Usuki Summer Fun Set

Warf Yoyo

Wind Up Tonu

Wooden Practice Fan


Woollen Scarf

(Click to Preview)


Zurroball Tournament Rule Book
NC Donations
In the NC Mall there are Gift Centre Boxes you can fill so that you can donate. They are on sale until February 9th.
NC Gift Centre Boxes

Gift Centre Boxes 1 Pack
100 NC

Gift Centre Boxes 10 Pack
600 NC

Gift Centre Boxes 20 Pack
900 NC

Gift Centre Boxes 30 Pack
1,050 NC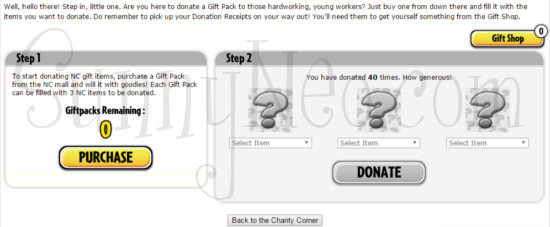 Once you donate, you receive a receipt. You then take the receipt and turn it in for prizes. However, the items aren't all worth the same amount of receipts.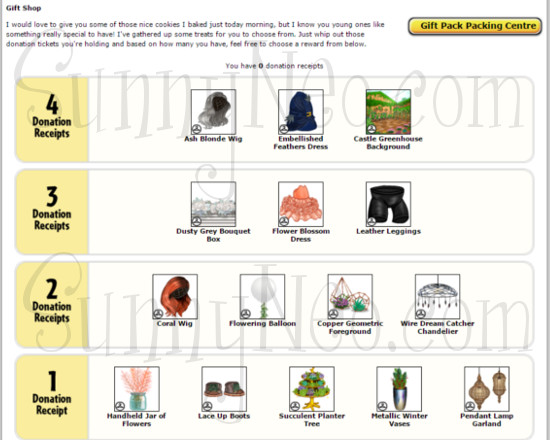 Frequently Asked Questions
Do I get anything for donating neopoint items?
Yes! You will be rewarded by Granny for every set of 5 items that you donate. The rarity of the items you donate reflect the rarity of the item you will receive in return. At the end of the event, you'll receive a trophy and final bonus prizes based on how generous you were!
How are neopoint items accepted?
Items within a certain rarity range are accepted. However, you must donate an item with a rarity that is equal to or greater than the rarity of the item you donated before!
How do I donate NP Items to the Community Hall drive?
Go to the Charity Corner main page and click on the button marked Donate NP Items. Once you select that option, you will be able to see 5 TNT staff members, each collecting a particular category of items. Click on the box in front of a staff member containing the type of item you wish to donate. Pick the items you want to donate from the drop down lists which are present in your inventory. You can only donate 5 items at a time. All 5 items must fall into the acceptable rarity range based on the item you donated before.
How long will the Charity Corner Community Hall be available?
The Charity Corner will start at on February 2nd and will stay open until 11:59:59 PM NST on February 9th.
What are the different categories of items? What will they be used for?
There are 5 categories of items this year. They are: Books – To fill the upcoming library in the new Community Hall, Coffee and Beverages – For the construction workers to have while they take a break, Food – To provide lunch meals for workers, Furniture and Gardening – Will be reused to furnish the Hall or salvaged to help with the construction of the Hall, Gifts – To be sold at a Garage Sale to raise funds for the construction of the Hall.
What is the Community Hall drive?
The Community Hall drive is the latest charitable effort from the Charity Corner run by Granny Hopbobbin, only this time, TNT has also decided to team up and help her out! Granny Hopbobbin is a kindly Neopian who wants to help Neopians who are in need. You can visit the Charity Corner to donate as many items as you can belonging to 5 different categories namely:
Books, Coffee & Beverages, Food, Furniture & Gardening
and
Gifts
. Each of these categories will be used by Granny and TNT to help fund for the construction of the Hall. Additionally, your generosity will be rewarded by Granny Hopbobbin herself! Make sure to claim your prize whenever you make a donation.
Why do we need a Community Hall?
Over the past few years, Granny has helped many-a-Neopian during the Charity Corner events but feels bad that she can help them only once a year. After a brain-storming session with TNT, Granny decided that a Hall would be a great place for Neopians to meet and help each other out all year long. The Hall will be open throughout the year and will be great place for the Neopets community to meet and converse as well as read books or help each other out during quests.