Charity Corner
2015
What is the Charity Corner?
The
Charity Corner
is where you can donate Neopoint or NC items.
Granny Hopbobbin is trying to get as much help as she can to give help to students returning to school in Neopia.
The Charity Corner

Every year, hundreds of kids in Neopia return to school without the basic supplies they need to succeed. This year, Granny Hopbobbin is working to make a difference, and she can't do it without you. Join the School Tools charity drive by donating supplies to kids in need. Your generosity will make a big difference to these deserving kids. It may even earn you a few surprises!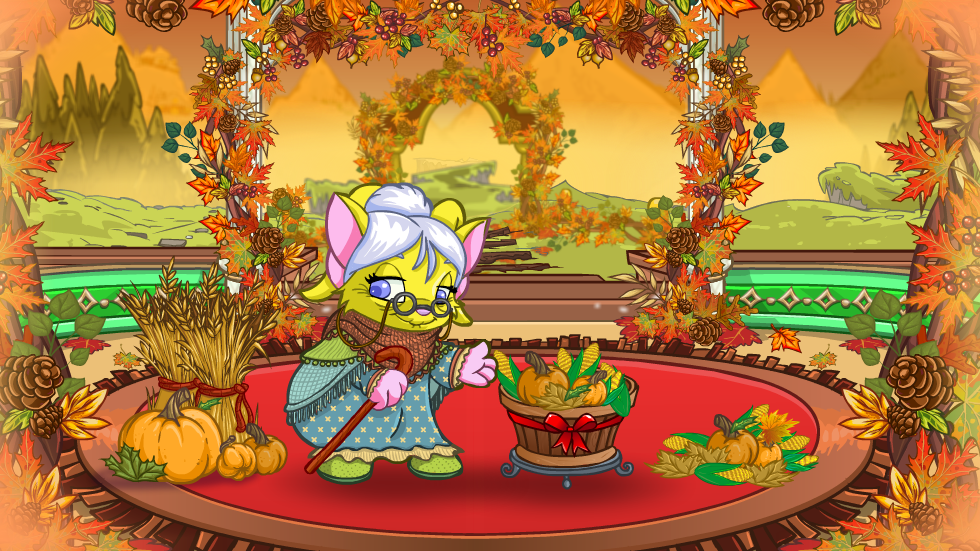 School Tools

Absolutely anything you spare will mean a lot to the young, deserving school children. However, Granny would like to make sure that every donation of NP items has a good mix of rare and not-so-rare supplies. Each item in a set must be the same or a slightly higher rarity that the one before it! If you'd like to go one step further, you can give the kids fully packed Backpacks from the NC mall.



Donate Neopoint Items
You can donate Neopoint Items. They have to be School Supplies so categories like school, book, clothing. Also, to donate items, you have to have five items increasing in rarity. For instance, if in the first slot you have an item rarity of r65, your next item must be more, the next moreso than that. Once you select the first items, the page filters out the next items you can offer.
Once you click Donate Neopoint Items, you are then lead to a screen where you can fill in items to donate.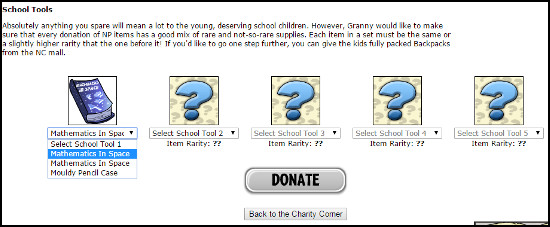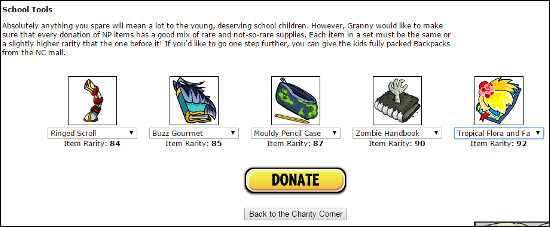 Once you have five items entered in, you can then click on the yellowed Donate button. This will trigger your reward.

Prizes
If you donate, here is a selection of prizes you can get. The prize you can get is based off the rarity of the first item you donate.
Prizes Based On Rarity
Quick Jump
r90-r99 | r80-r89 | r70-79 | r50-r69
Rarity 90-99

Asparagus Balls

Best Friends


Bionic Cybunny Body Cover

(Click to Preview)


Cheerleader Quiguki Doll


Chomby Prehistoric Bone Necklace

(Click to Preview)


Draik Sorceress Shoes

(Click to Preview)


Edna Plushie


Elegant Kacheek Warrior Wig

(Click to Preview)


Forgotten Tome

Frootafruit

Golden Doughnutfruit

Gondolier Usuki


Gypsy Chia Hat

(Click to Preview)


Hissi Knight Helmet

(Click to Preview)


I Love Tenna T-Shirt

Island Blumaroo Hula Doll


Korbat Jockey Jacket

(Click to Preview)


Moehog Nesting Dolls

Rainbow Apple


Refined Flotsam Trousers

(Click to Preview)


Scroll of Broken Seals

Snowberry Crepe

Space Station Schematics


Stately Nimmo Clutch

(Click to Preview)


The Snowager

Thornberry Chia Plushie

Upside Down Ice Cream
Rarity 80-89

1002 Spells For You

Acara Carrot Muffin


Aisha Maiden Shoes

(Click to Preview)


Aisha Warrior Sword

(Click to Preview)


Ant Eaten Ham

Blarthrox Ball

Carnival of Terror Stamp

Chesterdrawers Plushie

Chocolate Gormballs

Chocolate Hot Dog

Chomby Veggie Burger

Creating a Lucky Zafara


Curious Usul Hood and Wig

(Click to Preview)


Darigan Guitar

Darigan Tuskaninny Treat Bag

Dark Kiko Chocolates


Doctor Usul Gloves

(Click to Preview)


Draik Survivalist Wig

(Click to Preview)


Extravagant Krawk Hat

(Click to Preview)


Feathery Cupcake

Fish Bone Delight

Frozen Block of Sustenance

Game Manual: Pterattack

Golden Orb Stamp

Hot Apple Oatmeal

Ice Flute


Investigative Uni Bubble Pipe

(Click to Preview)


Kaussant

Krawk Apple Cake


Lady Lenny Dress

(Click to Preview)


Lavendar Soap

Lupe Waffles With Butter


Maractite Lined Poogle Wig

(Click to Preview)


Maraqua Puzzle Box

Meat and Beans

Meepit vs Feepit Game Guide

Minty Snowflake Cake

Mochi Soup

Moehog Comb

Mystery Island Tour Guide

Neopia Central Travel Brochure

Neopian Chandeliers

Official Usuki Drum

Ona Paperclip

Red Acara Ball

Red Kau Balloon

Scorchio Seaweed Cake

Shell Poetry


Shining Shoyru Wig

(Click to Preview)


Sho Codestone Plushie

Slugawoo Adventures

Snicklebeast Poems

Snow Gnorbu Plushie

Soft Kyrii Hairbrush

Spardel Plushie


Squid Scarf

(Click to Preview)


Strawberry Lupe Hard Candy

Tarragon and Brie Hot Dog

The Crumpetmongers Secret Recipes

The Wonder Of Toast

Thistleberry Tuskaninny Ice Cream

Tomato and Cheese Mooncake

Ummagine

Usuki Nurse Set


Usul Blacksmith Hammer

(Click to Preview)


Watermelon Hot Dog


Winter Korbat Warrior Hood

(Click to Preview)

Rarity 70-79

A Smatter of Mayo

After the Battle

Aggleroot

Aisha Hot Chocolate

Beetroot Ice Cream

Biscuit Brigade Tower Pencil Holder

Blue Chomby Plushie


Bone Vault Background

(Click to Preview)


Bruce Bruise

Chocolate Banana Pteri Eggs

Chocolate Pteri Eggs

Chokatosicle

Corn Colouring Book

Cream Covered Swiss Roll

Creature Factory Toy

Dark Chocolate Pellets

Dried Lemoran

Duoroot

Eyrie Diary

Factor 25 Sun Tan Lotion

Faerie Leaves Hot Dog

Faerie Pen

Fancy Usuki Sandcastle Set

Fig Sandwich

Filled Striped Doughnut

French Flies

Gigglers

Greedy Kadoatie Cap


Grundo Beach Shorts

(Click to Preview)


Heart Breath Mints

Ice Blended Coffee

Interesting Ixi

Island Slorg Usuki Set

Jelly Wocky

Liver and Onions Ice Lolly

Longan Sandwich

Meridell Travel Brochure

Mini Swiss Kau Cheese Wheel

Neopian Culture

Peanut Butter Smores

Pink Seashell Sand

Ripped Calendar

Ryshu Stamp

Shoot Kreludor Game

Sketch Sandwich

Smooshed Heart Cake

Snotty Ghost Toast

Snow Jetsam Plushie

Snuffly Usuki Set

Spicy Queela Dip

Sprinkled Doughnutfruit

Strawberry Shaved Ice


Swashbuckling Academy Background

(Click to Preview)


Swirly Chocolate Hissi

Techo Funnel Cake

The Korbat Who Couldnt Hang

Trumpet Lessons
69 And Below

105 Lava Cake Recipes

Acaras Waterproof Lotion

Bacheek

Baked Intesteen

Blueberry Jelly Beans

Broccoli and Cheese Pizza

Brown Rice Bowl

Chocolate Coated Pretzel

Chokato Cybunny Cake

Chokato Snapdragon Lollypop

Commemorative Defenders Stamp #1

Cool Mint Toothpaste

Dried Gruel Capsules

Fruity Faerie Fingers

Garin Spinning Top

Glitter Moon Candy

Jelly Asparagus

Joint of Ham

Kacheek Sticky Rice Cake

Lil Miss Grarrl

Malkus Vile

Milk Chocolate Scorchio

Mint Chocolate Spike Ball Candy

Mutant Chia Hole Punch

Nautilus

Neo Taco

NeoPox Pizza

Neoquest Hero

One Hundred Million Neopoint Stamp

Orange Evil Fuzzle

Peaburger Delight

Peppermint Toothpaste


Pile of Bones

(Click to Preview)


Pink Lipstick

Poogle Racing Game

Pumpkin Spice Soap

Quiggle Quotes

Red Mirror

Red Vandagyre Plushie

Screlon Sour Saucer

Scroll of the Lost King

Shadow Korbat Plushie

Shimmery Notebook

Space Spice

Speak Moehog

Strawberry and Cream Fish Pop

Thornberry Ice Cream Gummy

Tropical Fruit Smoothie

White Chocolate Uni

White Face Powder

Working Miniature Volcano
NC Donations
In the NC Mall there are Backpacks you can fill with School Supplies that you can donate. They are on sale until October 8th.
NC Backpacks

Backpack Packing Centre 1-Pack
100 NC

Backpack Packing Centre 10-Pack
600 NC

Backpack Packing Centre 20-Pack
900 NC

Backpack Packing Centre 30-Pack
1,050 NC

Once you donate, you receive a receipt. You then take the receipt and turn it in for prizes. However, the items aren't all worth the same amount of receipts.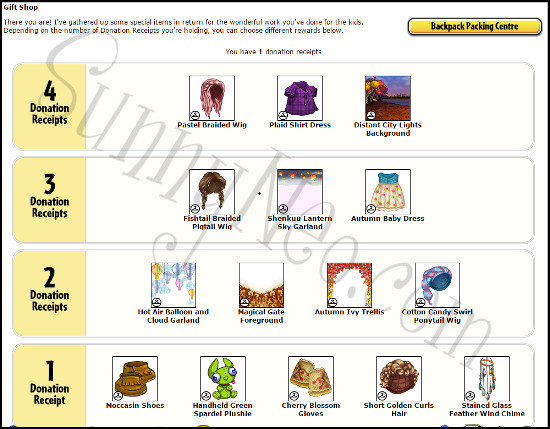 Frequently Asked Questions
Do I get anything for donating NP items?
Yes! The rarity of the items you donate reflect the rarity of the item you will receive in return. At the end of the event, you'll receive a trophy and final bonus prizes based on how generous you were!
How are NP items accepted?
You must donate an item with a rarity that is equal to or greater than the rarity of the item you donated before!
How do I donate NP Items to the School Tools Drive?
Go to the Charity Corner main page and click on the button marked Donate NP Items. Once you select that option, you will now be able to donate items to Granny Hopbobbin! Pick the items you want to donate from the drop down lists. You can only donate 5 items at a time. All 5 items must fall into the acceptable rarity range based on the item you donated before!
How long will the Charity Corner be available?
The Charity Corner will start at 10 am on September 24th and will stay open until 11:59:59 PM on October 8th.
What is School Tools?
The School Tools Drive is the latest charitable effort from the Charity Corner run by Granny Hopbobbin. This kindly Neopian wants to help Neopians who are in need. You can visit the Charity Corner to donate as many school supplies, books and clothing items as you would like, and Granny Hopbobbin will pass them along. Additionally, your generosity will be rewarded by Granny Hopbobbin herself! Make sure to claim your prize whenever you make a donation.