Prizes
This page lists the prizes that were awarded at the end of each Altador Cup. Besides these, there are also
Signup Freebies
and
Achievement Rewards
.

Altador Cup XVIII
On the July 7th, 2023, it was announced that
Virtupets
had won Altador Cup XVIII and the
Prize Shop
opened. On this page you can see an overview of the various items you can choose to spend your prize points on.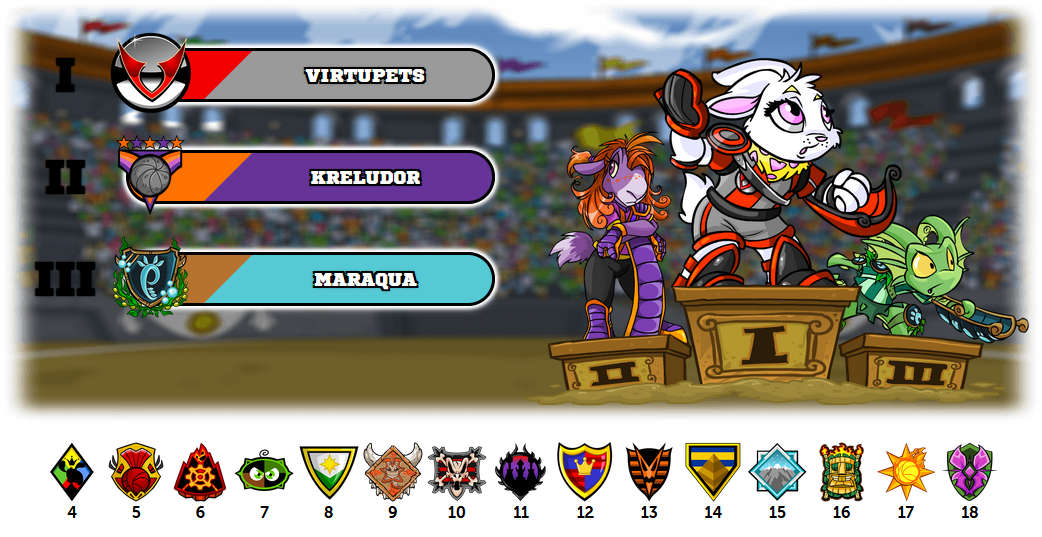 The Prizes
In the table below you can see all the prizes and how many points they cost you.
Altador Cup XVIII Prizes (2023)
Last Updated: July 07, 2023
Total Items: 52

FREE



Dyeworks Hue Brew Potion


View Preview




1 points



Yooyu Pencil Topper


1 points



Yooyuball Hair Tie


4 points



Yooyuball Rice Ball


7 points



Altador Cup Cheese Platter


18 points



Altador Cup Cologne


21 points



Janitor Autobiography


25 points



Altador Cup Backpack


28 points



Yooyuball Yard Set


32 points



Altador Cup Drum Set


35 points



Signed Framed Photo of Mirsha Grelinek


42 points



Yooyu Sopapillas


49 points



Altador Team Sweat Headbands


View Preview




49 points



Brightvale Team Sweat Headbands


View Preview




49 points



Dacardia Team Sweat Headbands


View Preview




49 points



Darigan Citadel Team Sweat Headbands


View Preview




49 points



Faerieland Team Sweat Headbands


View Preview




49 points



Haunted Woods Team Sweat Headbands


View Preview




49 points



Kiko Lake Team Sweat Headbands


View Preview




49 points



Krawk Island Team Sweat Headbands


View Preview




49 points



Kreludor Team Sweat Headbands


View Preview




49 points



Lost Desert Team Sweat Headbands


View Preview




49 points



Maraqua Team Sweat Headbands


View Preview




49 points



Meridell Team Sweat Headbands


View Preview




49 points



Moltara Team Sweat Headbands


View Preview




49 points



Mystery Island Team Sweat Headbands


View Preview




49 points



Roo Island Team Sweat Headbands


View Preview




49 points



Shenkuu Team Sweat Headbands


View Preview




49 points



Terror Mountain Team Sweat Headbands


View Preview




49 points



Tyrannia Team Sweat Headbands


View Preview




49 points



Virtupets Team Sweat Headbands


View Preview




53 points



Altador Cup Cookbook


70 points



Altador Cup Video Game


105 points



Official Altador Cup Energy Drink


175 points



Jelly Chia Goalie Card


245 points



Miniature Altador Stadium


View Preview




280 points



Altador Cup Stadium Headphones


View Preview




350 points



Altador Cup Trophy Drinking Cup


View Preview




1,050 points



Cheryl Shelly Slushie Slinger Action Figure


1,050 points



Tandrak Shaye Bobblehead


1,400 points



Haunted Woods Yooyu Plushie


2,450 points



Extra Loud Techo Fanatic Megaphone


2,800 points



Altador Cup XVIII Stamp


2,800 points



Mutant Yooyu Flail


View Preview




3,150 points



Golden Altador Cup Coin


3,500 points



Techo Fanatic Stamp


4,200 points



Maraquan Yooyu


4,900 points



Yooyu Plushies Foreground


View Preview




5,600 points



Pile of Yooyuballs


View Preview




8,400 points



Retro Altador Cup Field Background


View Preview




10,500 points



Zero Gravity Training Area


View Preview




12,600 points



Altador Cup Tailgate Party Background


View Preview