Off-season Specials
The Altador Cup season is each year in June. The rest of the year, the players may still get into all sorts of adventures. You can read them here.
NAVIGATION:
[
2011 - The Faeries' Ruin Effect
|
2011 - Best Venue For Parties
]

The Faeries' Ruin Effect on the Altador Cup teams
A Bit of Background Info...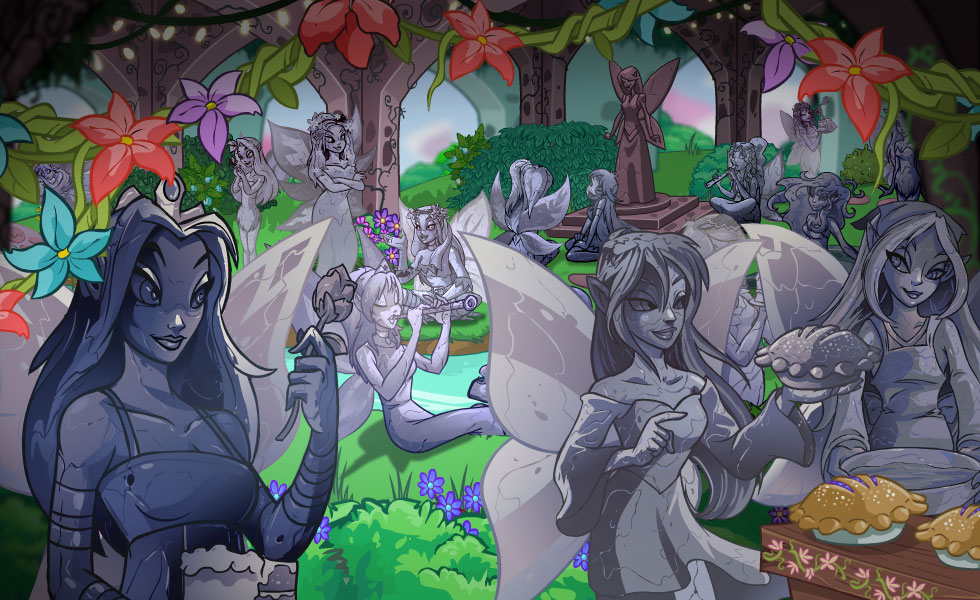 In September, Year 12, the annual
Faerie Festival
abruptly came to a halt due to an unforeseen curse that
turned the entire faerie population in Neopia to stone
!

As the months dragged on, Neopia learnt how much danger they were in without the faeries monitoring the overall welfare of the planet. A
crack team of heroes
(
King Altador
, two of Altador's guards,
King Jazan
of Qasala,
Captain Brynn
of Brightvale,
Xandra
the scholar, the Ogrin
Top Chop Master
and
Hanso
the self-proclaimed master thief) went out of their way to rescue the sinking Faerieland in order to save Neopia from a horrible fate.

Many had to do battle with
Shadow Wraiths
that plagued the planet and
drained the life
out of anything they passed. It was a grim time for all.
But the destination for Faerieland was a
direct collision just outside of the Haunted Woods
and
Xandra revealled her true powers
for Neopia's rule. At that point Xandra had turned everyone in the vicinity of her into stone after tricking our heroes into believing that an
ancient ritual
would save the doomed world. Hanso and Brynn had been spared from the ritual's effects because Xandra believed that they could help her reform Neopia "in her image".
Brynn battled against Oblivion whilst Hanso deliberately antagonised Xandra
to
overload the artefact
that started this mess (he liberated it from her a second time since the start of the plot) which led up to the most selfless heroic deed in Neopian history...

Hanso sacrificed himself to save the world
by destroying the energy-charged artefact, petrifying himself and Xandra in the process of breaking the evil spell. This unpetrifed our fallen heroes and the faeries... although earlier on in the plot,
Xandra had killed off Hubrid Nox
to aid her plans and sadly he could not return.
With the faeries freed along with our other heroes,
Queen Fyora
returned the favour to Hanso, asking him to revisit her when he was fully healed...
(For more information about the plot, please see our
The Faeries' Ruin plot coverage
.)

But due to the
catastrophic effect this was having on the Neopian world
itself, our
Altador Cup
stars suffered during the off-season as well.
Today you will hear from the players themselves about how The Faeries' Ruin impacted their lives and training possibilities in the duration of the global crisis.

Team Interviews
Click on the team of your choice to make the interview show up.
Team Meridell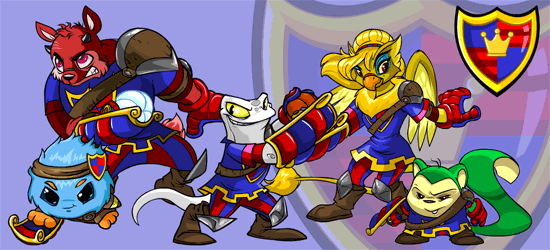 Neighbouring Brightvale, Meridell also underwent a similar predicament with the Shadow Wraiths. Team Meridell had to forfeit team practice to show the Wraiths their knightly skills instead.


CAPTAIN "WIZARD" WINDELLE

You should've seen me! I gave those Wraiths what for! Haha!
YORIS OBBLES

Not my idea of fun, Captain. Creatures that can drain your life force? No thanks, I'd rather be mistaken for a Yooyu over that any day.
ILSA ELLITS

So it wasn't Yooyuball? The adrenaline rush is all the same and it's just as brutal. I ain't Centre Defender for nothin'.
FIORINA

Good things the Shadow Wraiths can't fly! I had an advantage from the start. Aerial attacks are my speciality. Vanquished a TON of them!
GREGORIO MAILLE

By Skarl it was insane! We found out from Brightvale that they had the same invasion and many were starting to perish. Faerieland was in dire straits!
WIZARD

Those poor faeries, all they ever did was help Neopians! I would have loved to help them if we weren't ambushed.
FIORINA

Other heroes, including a Brightvale Captain, were helping the faeries, Captain.
WIZARD

What I don't get is why King Skarl didn't send Jeran out to join that quest to save Faerieland? Damsel saving is right up his alley!
ILSA

Skarl wanted Jeran to stay behind to protect Meridellians. Can't say I blame him.
YORIS

Despite all of the mayhem, the Turmaculus managed to remain asleep.
FIORINA

That was a good thing for you, Yoris, considering how often you claim to be mistaken for a Yooyu!
YORIS

Shadow Wraiths, Faerieland's demise... being eaten by Turmy? Why didn't I just stay home?
WIZARD

Chin-up, young JubJub! The heroes were victorious and we could return to our daily lives.
GREGORINO

You know what's left me wondering...?
TEAM MERIDELL

What?
GREGORINO

I wonder how many Draik Eggs were stolen in the duration of this predicament. I doubt Merifoods have that level of security, what with thieves hanging around.
ILSA

Good question. I don't think anyone was paying attention with those Wraiths around.
GREGORINO

Drat! I could've snagged meself one had I known!
WIZARD

Gregorino! For shame, do not encourage thievery.
GREGORINO

Sorry, sir.