It is now February, so don't forget to change your calendars, and claim your free monthly freebies! In addition, it is now time for the 11th Annual Neopies! A special yearly ceremony, where you can vote on the best content from 2022. Whenever you cast a vote, you'll receive a random prize.
From February 1st to the 2nd you'll be able to vote on the best advent calendar comic. You can check out our advent calendar guide if you needed a quick refresher on those comics. We've also updated our Neopies guide, where you'll be able to follow along, or view previous years' choices and winners!

I nominate this potato... TO BE THE BEST POTATO!
January's premium collectible is being sent out. This month's collectible is:Premium Collectible: Glowing Field of Flowers.

---
SunnyNeo is always on the lookout for new staff! If you'd like to help out Neopian's everywhere, please Apply To SunnyNeo. There are so many great ways you can help out others and help make Neopets an even greater place! So if you're looking for more out of your Neopets experience, don't hesitate. We have openings all around the site. From simple tasks that require no HTML/CSS or Graphics, to ones that do. The more we share smaller tasks, the more it frees up time for those of us who do stuff all over the site to get larger things done. So even if you think you might not be able to contribute much, every little bit of help makes a difference. If you aren't quite sure what you can do to help out with, feel free to Neomail Jujipup with your skills and what you like around Neopets and we can help guide you to an opening that fits you. Also, if you have an idea for SunnyNeo, feel free to reach out as well. We are always open to new and fresh ideas - it is how I joined SunnyNeo all those years ago. As always, we are always open to old staff members coming back!

We would be nothing without our amazing staff!
Happy Gnorbu Day! You can now paint your pet Gnorbu in the fancy Toy colour! We've updated our Rainbow Pool with the new pet colour! In addition, a Stormy Gnorbu Outfit has been released in Uni's Clothing Shop. Our Wearables HQ has been updated if you wanted to check it out!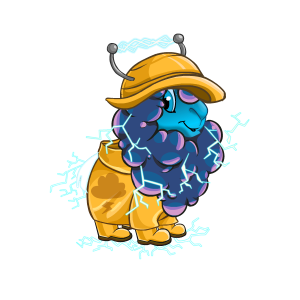 An electrifying party!
---
Are you looking for some older news? Visit our News Archive.