| | |
| --- | --- |
| | Posted by coalbox on 18th of October 2017 at 03:14 PM NST |
Neopets Add 5th Pet & Premium Loyalty Gift
There are some exciting new updates to Neopets today, as non-premium users are now able to adopt up to
5 Neopets
per account!! They have also added arrows onto userlookups for the Neopets section. For Premium users, you may now have up to
6 Neopets
per account.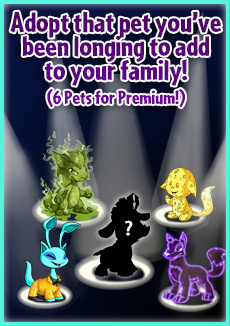 *
There have been some glitches on the first day with the transfer of a 6th Neopet reported. Transfers via the pound do work, but use that at your own risk!
---
Also, if you are a Premium Member you might have noticed the release of a
Premium Rewards Goodie Bag
in your inventory, as well as this corresponding Neomail from TNT:
Hello,

Thanks for being a Premium User! As you might've heard, we have knocked down some walls and made some extra space for all to have an extra Neopet.
As a Premium subscriber you can now adopt a 6th pet of your very own!

On a day like today, we just want to show you how much we appreciate you being a part of the Neopets Community!

Please enjoy this Goodie Bag that we've placed in your inventory!

- The Neopets Team




The Premium Rewards Goodie Bag is more like a capsule and gifts Premium Members with these free NC game packs:
Patapult Patapuff 1-Pack, Bigsby Shadingtons Wonderclaw Widget 1-Pack,
and
Shenanigifts Invitation 1-Pack.
These must be activated within your inventory first in order to play. Happy playing!